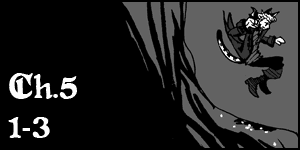 So, a new chapter, and  a new site design… kind of. Actually only the main page and the About page have been touched at all; click on anything else and you'll find yourself looking at the old site. Knowing me, if I wait until I get the site to be completely presentable before updating the comic, I'd probably just end up sitting on the new pages indefinitely. I apologize to the loyal forum posters; the forum is still down. I'll work on that next. The Fanworks and Links sections will probably be a long time in coming. In the meantime, please check out this beautiful fanart sent in by L.S. Zwarenstein of Geist!
As I posted before on Tumblr and Deviantart, I'm doing things a little differently this chapter. In the past I would dive into producing pages with only a basic outline for the chapter. I'd do thumbnails and dialogue as I went along. For this chapter, I've thumbnailed the whole thing  in advance, which will hopefully make things easier/more efficient along the way. That's the theory, anyway. Come back next week to see how well it works.

The composition in the first panel of page 1 is inspired by a well-known painting; see if you can recognize it.